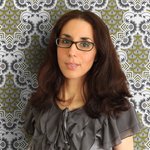 Honeybelle
Hello! I'm Sophie Honeybelle and I'm a UK-based Surface Pattern Designer. A bit about me… I graduated from Falmouth College of Arts in 2002 with a BA (Hons) Fine Art, where I specialised in painting. Before becoming a surface pattern designer I ran a business as a jewellery designer/maker, which I set up in 2009. In 2012 I wanted a new challenge and decided to study surface pattern design with The Art and Business of Surface Pattern Design e-course. I live to be creative and I'm most passionate about the world of surface pattern design. There's something uniquely satisfying about putting on some beautiful music, firing up Adobe Illustrator and letting my imagination do its thing. I'm at my most happy when I've got a camera in my hands; when I'm designing patterns at my computer and when I'm in my studio working with paper, pens and paint. A bit about my work… I design surface patterns for all sorts of products, from fabrics for clothes to cases for mobile phones, from gift wrap, wallpaper and mugs to tote bags, decals and greetings cards. I describe my current body of work as a mash-up of eclectic styles as I am inspired by a number of differing visual interests. My current main influences are: - Damask wallpapers - 1960s motifs, particularly curvy ones - A 1950s colour palette - Traditional Middle Eastern mosaics - Tessellation - Plants, especially flowers I'm interested in producing a graphic, clean quality to my work, using beautiful, harmonising colours and creating designs that are bold, interesting and unusual. My designs are created on a foundation of experimentation as I feel this keeps the work fresh, exciting and challenging. While I have influences and external sources of inspiration, I like to play while I'm working so that the unexpected can come through. For more designs, head over to my website: www.honeybelle.co.uk Honeybelle joined Society6 on May 11, 2013
More
Hello! I'm Sophie Honeybelle and I'm a UK-based Surface Pattern Designer.
A bit about me…
I graduated from Falmouth College of Arts in 2002 with a BA (Hons) Fine Art, where I specialised in painting. Before becoming a surface pattern designer I ran a business as a jewellery designer/maker, which I set up in 2009. In 2012 I wanted a new challenge and decided to study surface pattern design with The Art and Business of Surface Pattern Design e-course.
I live to be creative and I'm most passionate about the world of surface pattern design. There's something uniquely satisfying about putting on some beautiful music, firing up Adobe Illustrator and letting my imagination do its thing. I'm at my most happy when I've got a camera in my hands; when I'm designing patterns at my computer and when I'm in my studio working with paper, pens and paint.
A bit about my work…
I design surface patterns for all sorts of products, from fabrics for clothes to cases for mobile phones, from gift wrap, wallpaper and mugs to tote bags, decals and greetings cards.
I describe my current body of work as a mash-up of eclectic styles as I am inspired by a number of differing visual interests.
My current main influences are:
     Damask wallpapers


     1960s motifs, particularly curvy ones


     A 1950s colour palette


     Traditional Middle Eastern mosaics


     Tessellation


     Plants, especially flowers

I'm interested in producing a graphic, clean quality to my work, using beautiful, harmonising colours and creating designs that are bold, interesting and unusual. My designs are created on a foundation of experimentation as I feel this keeps the work fresh, exciting and challenging. While I have influences and external sources of inspiration, I like to play while I'm working so that the unexpected can come through.
For more designs, head over to my website: www.honeybelle.co.uk
Honeybelle joined Society6 on May 11, 2013.