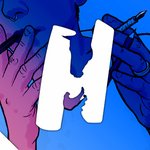 Horsethief Art Collective
Daniel Annis was born in Toronto, Ontario in 1988. During his teenage years, Daniel worked at concert venues downtown at least twice a week for almost a decade, while regularily attending Warped Tour and various other music festivals around the continent. From his involvement in the live music scene, he was exposed to and immersed in an intersectional creative community. Growing up his mother, Donna, encouraged Daniel to explore his creative side and nurture his talent with various traditional materials. Midway through high school he was introduced to Adobe Creative Suite where his fascination began to grow. That Summer, he honed the Pen Tool and began making album artwork, show posters and tee designs- until one Christmas morning he was graced with his first tablet and stylus. Since then, Daniel has attended Sheridan College and worked with Velvet Rope Magazine, based out of Southern Ontario as their lead art director under the talented Care Finch for a stint of months, which consisted of cover design, page layouts and general graphic creation. Horsethief Art Collective was founded during the Spring of 2008. The Summer following is when the wheels really started to gather speed. Horsethief was hired as the in house Illustrator by a clothing company/ printing house, producing 25 unique apparel designs and promotional items for the launch of their Summer line and exclusive fashion show. Since then, he has gone on to complete over a hundred freelance endeavors, with no signs of slowing down. Horsethief believes in the art of communication and expression, through using aesthetics to pleasingly convey information in a pleasing manner. Through an encouraged collective and collaboration, Horsethief is passionate about working with other unique individuals in achieving their goals and overcoming obstacles. The name came from Daniel's father, Gerry, who used the moniker as his handle during his teenage youth spent on CB radios. This one's for you, pops. Available globally for hire. Horsethief Art Collective joined Society6 on February 12, 2015
More
Daniel Annis was born in Toronto, Ontario in 1988.
During his teenage years, Daniel worked at concert venues downtown at least twice a week for almost a decade, while regularily attending Warped Tour and various other music festivals around the continent. From his involvement in the live music scene, he was exposed to and immersed in an intersectional creative community.
Growing up his mother, Donna, encouraged Daniel to explore his creative side and nurture his talent with various traditional materials. Midway through high school he was introduced to Adobe Creative Suite where his fascination began to grow. That Summer, he honed the Pen Tool and began making album artwork, show posters and tee designs- until one Christmas morning he was graced with his first tablet and stylus.
Since then, Daniel has attended Sheridan College and worked with Velvet Rope Magazine, based out of Southern Ontario as their lead art director under the talented Care Finch for a stint of months, which consisted of cover design, page layouts and general graphic creation. Horsethief Art Collective was founded during the Spring of 2008.
The Summer following is when the wheels really started to gather speed. Horsethief was hired as the in house Illustrator by a clothing company/ printing house, producing 25 unique apparel designs and promotional items for the launch of their Summer line and exclusive fashion show. Since then, he has gone on to complete over a hundred freelance endeavors, with no signs of slowing down.
Horsethief believes in the art of communication and expression, through using aesthetics to pleasingly convey information in a pleasing manner. Through an encouraged collective and collaboration, Horsethief is passionate about working with other unique individuals in achieving their goals and overcoming obstacles.
The name came from Daniel's father, Gerry, who used the moniker as his handle during his teenage youth spent on CB radios. This one's for you, pops.
Available globally for hire.
Horsethief Art Collective joined Society6 on February 12, 2015.