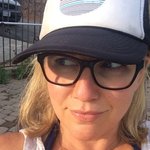 House of Boys Art + Design
oIn 2005, my husband and I bought our house on the west side of Santa Cruz, California to raise our growing family. Over the past decade, while working as a marine biology professor, I have created abstract paintings for my family and friends while simultaneously restyling and curating our living space as our family has evolved. Art and design have always been my passion and hobby. In 2014, I chose to leave marine biology behind to predominately focus on my art, design and my house full of boys (my husband, two sons, and our male pitbull!) I started House of Boys Art + Design soon after to pursue my passion. I created an abstract art collection inspired by current design trends and colors. I consider myself a colorist, focusing more on featuring intense colors rather than forms. My abstract paintings are modern, bold, feminine and colorful. As I layer colors on the canvas, my pictures tend to evolve, with each layer adding texture and depth. I am inspired by trends in fashion, decor, garden design, architecture, and always the ocean! I hope that my art brings warmth, style, and color to every room. House of Boys Art + Design joined Society6 on October 23, 2015
More
oIn 2005, my husband and I bought our house on the west side of Santa Cruz, California to raise our growing family. Over the past decade, while working as a marine biology professor, I have created abstract paintings for my family and friends while simultaneously restyling and curating our living space as our family has evolved. Art and design have always been my passion and hobby. In 2014, I chose to leave marine biology behind to predominately focus on my art, design and my house full of boys (my husband, two sons, and our male pitbull!) I started House of Boys Art + Design soon after to pursue my passion. I created an abstract art collection inspired by current design trends and colors.
I consider myself a colorist, focusing more on featuring intense colors rather than forms. My abstract paintings are modern, bold, feminine and colorful. As I layer colors on the canvas, my pictures tend to evolve, with each layer adding texture and depth. I am inspired by trends in fashion, decor, garden design, architecture, and always the ocean!
I hope that my art brings warmth, style, and color to every room.
House of Boys Art + Design joined Society6 on October 23, 2015.
House of Boys Art + Design's Store
61 results
Filter