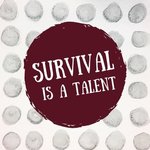 Survival is A Talent
We are a family of artists & want to share our blog and art with the world! Please support our blog, and family of artists here at Survival is A Talent. Follow our online Blog: https://survivalisatalent.com/ We hope you love our artwork, thank you & enjoy! Survival is A Talent joined Society6 on March 5, 2017
More
We are a family of artists & want to share our blog and art with the world! Please support our blog, and family of artists here at Survival is A Talent.
Follow our online Blog: https://survivalisatalent.com/
We hope you love our artwork, thank you & enjoy!
Survival is A Talent joined Society6 on March 5, 2017.
Survival is A Talent's Store
242 results
Filter