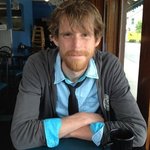 Henrik Soderstrom
Henrik Søderstrøm is an artist, designer, and idea enthusiast. Raised in Rochester NY by an exuberant Californian musician and a Swedish visionary, he grew up sanding historic floorboards and eating green peppers like apples from the vegetable garden.
After absorbing inspiration and general excitement about life at the Rhode Island School of Design, he went on to design the set for the Silk Road Ensemble's production of Leyli & Majnun, which opened in 2009 at the Lincoln Center in New York under the artistic direction of Yo-Yo Ma.
Henrik has since enjoyed collaborating with the Society for Freshwater Science, the Music of Difference Project, the Roger Tory Peterson Institute of Natural History, and FuturPointe dance to produce shows and performances.
Read more
Henrik Soderstrom's Store
Filter
Henrik Soderstrom's Store