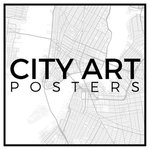 City Art Posters
City Art Posters is a project to convert our beautiful cities into outstanding map art. Making posters and prints a highlight of interior space in the office as well as in the house. Visit us https://cityartposters.com/ All designs are made by an architect and designer Hubert Roguski. For all the promotion follow me on facebook: https://www.facebook.com/City-Map-Art-137540726577308 If you want your city to be made also message me on facebook ;) After you buy, please send a photo with this art in "use" to our FB page :) City Art Posters joined Society6 on June 25, 2015
More
City Art Posters is a project to convert our beautiful cities into outstanding map art. Making posters and prints a highlight of interior space in the office as well as in the house. Visit us https://cityartposters.com/ All designs are made by an architect and designer Hubert Roguski.
For all the promotion follow me on facebook: https://www.facebook.com/City-Map-Art-137540726577308
If you want your city to be made also message me on facebook ;) After you buy, please send a photo with this art in "use" to our FB page :)
City Art Posters joined Society6 on June 25, 2015.
All Over Print Shirts by City Art Posters
1000+ results
Filter
Products

All Over Print Shirts