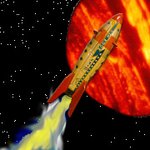 HudsonVintageRocketWorks
Hudson Vintage Pulp and Rocket Works, based in historic Hudson New York, is a boutique purveyor of fine quality vintage science fiction books, pulp magazines, tourism ephemera along with hand tooled, upcycled jewelry created by one of the partners. We have an archive of more than 1000 classic sci fi titles - both hardcover and paperback books (some first editions too!) - all in hard-to-get condition, reasonable priced! Be sure to become a fan of our Facebook page:https://www.facebook.com/HudsonPulpAndRocketWorks so that you stay up to date on our latest offerings. Sign up for our newsletter on our website: www.HudsonVintagePulpandRocketWorks.com. We primarily list our items on Etsty, find our shop here: https://www.etsy.com/shop/HudsonPulpAndRockets HudsonVintageRocketWorks joined Society6 on November 25, 2013
More
Hudson Vintage Pulp and Rocket Works, based in historic Hudson New York, is a boutique purveyor of fine quality vintage science fiction books, pulp magazines, tourism ephemera along with hand tooled, upcycled jewelry created by one of the partners.
We have an archive of more than 1000 classic sci fi titles - both hardcover and paperback books (some first editions too!) - all in hard-to-get condition, reasonable priced!
Be sure to become a fan of our Facebook page:https://www.facebook.com/HudsonPulpAndRocketWorks so that you stay up to date on our latest offerings. Sign up for our newsletter on our website: www.HudsonVintagePulpandRocketWorks.com.
We primarily list our items on Etsty, find our shop here: https://www.etsy.com/shop/HudsonPulpAndRockets
HudsonVintageRocketWorks joined Society6 on November 25, 2013.