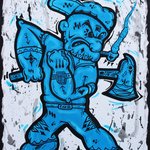 Julio "Hules" Castellano
Over the years Julio "Hules" Castellano has naturally been evolving as an artist experimenting with graffiti/street art, illustration, graphic design, print, painting, photography & various other design techniques. Hules is currently focused on popular culture and the way it is perceived through branding and advertising from a very early age and the way that this then affects us later in life. Hules takes inspiration from people he meets, stories he hears, interesting situations, culture, travelling & in the uniqueness of life its self. He has lived and travelled extensively in Europe, South America & Australia over the past years painting street murals and canvases alike whilst participating in various solo & group exhibitions, live art events, charity events & major art events such as Outpost Project 2011 in Sydney, Australia. Hules finds it exciting to break the mould on what you think something or someone is expected to be like in our society and then flip it upside down in his own unique style. His simple effective colour palette, strong line work, geometry, shape & form make up Julio "Hules" distinctive style of art. Julio "Hules" Castellano joined Society6 on October 8, 2013
More
Over the years Julio "Hules" Castellano has naturally been evolving as an artist experimenting with graffiti/street art, illustration, graphic design, print, painting, photography & various other design techniques.
Hules is currently focused on popular culture and the way it is perceived through branding and advertising from a very early age and the way that this then affects us later in life.
Hules takes inspiration from people he meets, stories he hears, interesting situations, culture, travelling & in the uniqueness of life its self.
He has lived and travelled extensively in Europe, South America & Australia over the past years painting street murals and canvases alike whilst participating in various solo & group exhibitions, live art events, charity events & major art events such as Outpost Project 2011 in Sydney, Australia.
Hules finds it exciting to break the mould on what you think something or someone is expected to be like in our society and then flip it upside down in his own unique style.
His simple effective colour palette, strong line work, geometry, shape & form make up Julio "Hules" distinctive style of art.
Julio "Hules" Castellano joined Society6 on October 8, 2013.
Julio "Hules" Castellano 's Store
44 results
Filter