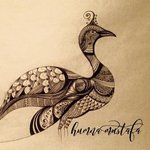 Humna Mustafa
I have a passion for creating patterns, mostly inspired by the Islamic Arts on paper, silk, ceramics, wood, human body, walls and any other possible canvas. I enjoy experimenting and collaborating with other artist to create and explore different mediums, starting from mixed media, photography and videos. Along with having a keen interest in working with my hands creating arts and craft, I also enjoy meeting new people, hearing their stories, and helping them believe and see their individuality. Talking spirituality, building communities and sharing all I can with everyone is my reason to be. I constantly believing in learning new skills, and stretching my boundaries, to help me grow my passion for painting and bring together a fusion of mediums, to beautify this world. Humna Mustafa joined Society6 on January 25, 2013
More
I have a passion for creating patterns, mostly inspired by the Islamic Arts on paper, silk, ceramics, wood, human body, walls and any other possible canvas. I enjoy experimenting and collaborating with other artist to create and explore different mediums, starting from mixed media, photography and videos.
Along with having a keen interest in working with my hands creating arts and craft, I also enjoy meeting new people, hearing their stories, and helping them believe and see their individuality. Talking spirituality, building communities and sharing all I can with everyone is my reason to be.
I constantly believing in learning new skills, and stretching my boundaries, to help me grow my passion for painting and bring together a fusion of mediums, to beautify this world.
Humna Mustafa joined Society6 on January 25, 2013.