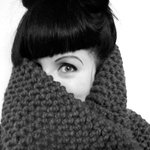 Made by A
Alex lives in Dublin, Ireland with her husband and their two fur babies. She's an office zombie by day, but chooses to spend her evenings and spare time as an interior designer, DIYer and blogger. Made By A is where Alex is trying her hand at putting things out into the internet universe that she'd love to see and use in her own home. You can find Alex elsewhere on the internet here - Blog - http://www.hydrangeagirl.com Instagram - http://instagram.com/alex_hydrangeagirl Twitter - http://www.twitter.com/hydrangeagiri Facebook - http://www.facebook.com/hydrangeagirl Do you own a piece from Made By A? Then share using the hashtag #MadeByA! Made by A joined Society6 on May 20, 2014
More
Alex lives in Dublin, Ireland with her husband and their two fur babies. She's an office zombie by day, but chooses to spend her evenings and spare time as an interior designer, DIYer and blogger. Made By A is where Alex is trying her hand at putting things out into the internet universe that she'd love to see and use in her own home.
You can find Alex elsewhere on the internet here - Blog - http://www.hydrangeagirl.com Instagram - http://instagram.com/alex_hydrangeagirl Twitter - http://www.twitter.com/hydrangeagiri Facebook - http://www.facebook.com/hydrangeagirl
Do you own a piece from Made By A? Then share using the hashtag #MadeByA!
Made by A joined Society6 on May 20, 2014.
Made by A's Store
56 results
Filter