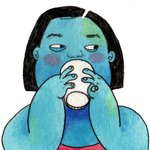 Hyebin Lee
Hello there, My name is Hyebin Lee. I am a Seoul-born, London-based animator & illustrator. Thank you so much for visiting! please feel free to contact me with any questions you may have. :D email : hello@hyebinlee.com site : http://hyebinlee.com/ blog: http://hyebinlee.tumblr.com/ Hyebin Lee joined Society6 on May 18, 2013
More
Hello there,
My name is Hyebin Lee. I am a Seoul-born, London-based animator & illustrator. Thank you so much for visiting! please feel free to contact me with any questions you may have. :D
email : hello@hyebinlee.com site : http://hyebinlee.com/ blog: http://hyebinlee.tumblr.com/
Hyebin Lee joined Society6 on May 18, 2013.