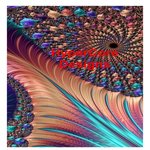 HyperCore
I do a lot of fractal art as a hobby. It is the art of capturing movement at the right time to create something beautiful. Not always easy then you hope you don't ruin it by playing about to much with the colours and texture of it. It is a process of luck but I hope I am being modest here. I do sometime go weeks before I find something I love then I seem to get a few come together at once. I would say it's peaceful but I think I get more uptight when I see something coming together and whoosh it's gone before I can grab it. A fractal is a never-ending pattern. Fractals are infinitely complex patterns that are self-similar across different scales. They are created by repeating a simple process over and over in an ongoing feedback loop. Driven by recursion, fractals are images of dynamic systems – the pictures of Chaos. Geometrically, they exist in between our familiar dimensions. Fractal patterns are extremely familiar, since nature is full of fractals. For instance: trees, rivers, coastlines, mountains, clouds, seashells, hurricanes, etc. Abstract fractals – such as the Mandelbrot Set – can be generated by a computer calculating a simple equation over and over. HyperCore joined Society6 on June 14, 2016
More
I do a lot of fractal art as a hobby. It is the art of capturing movement at the right time to create something beautiful. Not always easy then you hope you don't ruin it by playing about to much with the colours and texture of it. It is a process of luck but I hope I am being modest here. I do sometime go weeks before I find something I love then I seem to get a few come together at once. I would say it's peaceful but I think I get more uptight when I see something coming together and whoosh it's gone before I can grab it.
A fractal is a never-ending pattern. Fractals are infinitely complex patterns that are self-similar across different scales. They are created by repeating a simple process over and over in an ongoing feedback loop. Driven by recursion, fractals are images of dynamic systems – the pictures of Chaos. Geometrically, they exist in between our familiar dimensions. Fractal patterns are extremely familiar, since nature is full of fractals. For instance: trees, rivers, coastlines, mountains, clouds, seashells, hurricanes, etc. Abstract fractals – such as the Mandelbrot Set – can be generated by a computer calculating a simple equation over and over.
HyperCore joined Society6 on June 14, 2016.