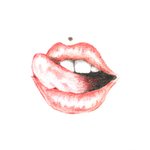 Hyshil
Hyshil is an independent illustrator and graphic designer based in Amsterdam. She started drawing when she was little and never stopped. Nature, memories, art and culture, animals, current events and conversations are big sources of inspiration.
Her work is very detailed, drawn mostly with pencil and is always crafted by hand. To preserve the handcrafted nature of her pencil drawings she aims to digitally alter as little as possible. Clients include VolksHotel, The Dutch National Opera & Ballet, Kids on the moon and Brandt & Levie. She created a hand-drawn animation for De Wereld Draait Door, which was televised live and nationally during prime-time and she appeared on VTwonen, making a custom window-drawing.
On several occasions she has collaborated with other creatives, allowing her drawings to leave the paper and even take three-dimensional form, from jewelry to store-windows to children's clothing. She has illustrated and designed two books, a travel guide and a creative DIY book (which she also wrote). Currently she is working on her first children's book, an illustrated story about a shy little girl, finding her way into the world.
Most of the drawing takes place in her studio in Amsterdam, which she shares with friends. Above anything else, she looks for creative challenge, meeting of minds and inspiration and welcomes requests of any sort.
http://www.hyshil.com http://instagram.com/hyshil https://www.facebook.com/hyshilsander
Read more
Hyshil's Store
25 results
Filter