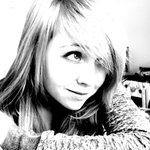 I have a rare neurological condition called Synesthesia. It occurs because of "crossed wires" in the brain that allow my letters and numbers to have associated colors with them, I can hear images, and see music in patterns and colors much like a visualizer you would see on windows media player or iTunes. A lot of my artwork comes from my experience as a synesthete and my dream is to share it with the world. I use several mediums for my pieces, ranging from digital art, acrylic and watercolor paint, and my earlier drawings consisted of ink, graphite and colored pencil. joined Society6 on June 27, 2012
More
I have a rare neurological condition called Synesthesia. It occurs because of "crossed wires" in the brain that allow my letters and numbers to have associated colors with them, I can hear images, and see music in patterns and colors much like a visualizer you would see on windows media player or iTunes. A lot of my artwork comes from my experience as a synesthete and my dream is to share it with the world.
I use several mediums for my pieces, ranging from digital art, acrylic and watercolor paint, and my earlier drawings consisted of ink, graphite and colored pencil.
joined Society6 on June 27, 2012.