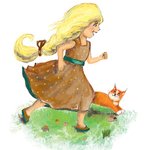 i_baykovska
My illustrator' career started from the drawing on my mom's recipe notepads, when I was probably 3 years old. I tried to released my first ideas and visions. Then there were walls in the bedroom and only after this I had many-many copybooks filled with drawings and sketches, made into kind of self-published books during my childhood. Only in my twenties, I was sure what I have to do with my life and so I'm here now, trying to show you my art. I love to illustrate books for children. It always amaze me how words on paper can became real in colors and lines. Also, I have a degree in Graphic Design in Ukrainian academy of Printing, so often I create the layouts for the books I'm illustrating and it's really important to me, because that way all my ideas can be realized completely without any issues. So far , I've been working with several author's in Europe, USA and Middle East. I'm working on my own projects and will be happy to share them with you as well. I live in a most beautiful city in Ukraine - Lviv. Welcome to my world!:) i_baykovska joined Society6 on January 19, 2016
More
My illustrator' career started from the drawing on my mom's recipe notepads, when I was probably 3 years old. I tried to released my first ideas and visions. Then there were walls in the bedroom and only after this I had many-many copybooks filled with drawings and sketches, made into kind of self-published books during my childhood.
Only in my twenties, I was sure what I have to do with my life and so I'm here now, trying to show you my art. I love to illustrate books for children. It always amaze me how words on paper can became real in colors and lines.
Also, I have a degree in Graphic Design in Ukrainian academy of Printing, so often I create the layouts for the books I'm illustrating and it's really important to me, because that way all my ideas can be realized completely without any issues. So far , I've been working with several author's in Europe, USA and Middle East.
I'm working on my own projects and will be happy to share them with you as well.
I live in a most beautiful city in Ukraine - Lviv. Welcome to my world!:)
i_baykovska joined Society6 on January 19, 2016.