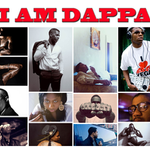 I am Dappa
MY NAME IS DAVID, BUT MY FRIENDS CALL ME DAPPA Thanks for being awesome and checking out this page. You are now a friend, so from this moment forward I am Dappa (see what I did there). I'm a Brooklyn based photographer enjoying life and taking pieces of it with me through my camera. Contact me if you like. Email | iamDappa@gmail Website | www.IamDappa.com Blog | www.iamdappa.tumblr.com Facebook | https://www.facebook.com/iamdappa Twitter | https://twitter.com/Dappa718 I'll be adding images regularly, so be sure to come back... and bring a friend lol. I am Dappa joined Society6 on July 13, 2013
More
MY NAME IS DAVID, BUT MY FRIENDS CALL ME DAPPA
Thanks for being awesome and checking out this page. You are now a friend, so from this moment forward I am Dappa (see what I did there). I'm a Brooklyn based photographer enjoying life and taking pieces of it with me through my camera.
Contact me if you like.
Email | iamDappa@gmail
Website | www.IamDappa.com
Blog | www.iamdappa.tumblr.com
Facebook | https://www.facebook.com/iamdappa
Twitter | https://twitter.com/Dappa718
I'll be adding images regularly, so be sure to come back... and bring a friend lol.
I am Dappa joined Society6 on July 13, 2013.