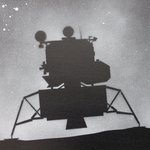 Ian_Spicer_Art
Designs and original artwork for sale by Ian Spicer Art. I am an artist living on the south coast of England now exploring the world on online promotion and selling. Over recent years I have experimented with different styles and techniques and now combine several of these into mix media abstract pieces. Mixing oils, acrylics, inks and spray paint with stencil art and different surfaces to create one off original pieces of different sizes and values. Ian_Spicer_Art joined Society6 on October 8, 2016
More
Designs and original artwork for sale by Ian Spicer Art.
I am an artist living on the south coast of England now exploring the world on online promotion and selling. Over recent years I have experimented with different styles and techniques and now combine several of these into mix media abstract pieces. Mixing oils, acrylics, inks and spray paint with stencil art and different surfaces to create one off original pieces of different sizes and values.
Ian_Spicer_Art joined Society6 on October 8, 2016.