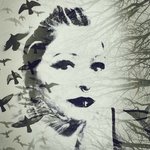 Cathartica
My name is Crystal, I am a self taught Australian Artist creating Ethereal, Cathartic and Visionary artworks that are a reflection of inner visions inspired by my philosophical exploration into our spiritual connection to the universe and the wonders of the human mind, spirit and consciousness. Art is somewhere I can unleash my restless creativity, a place of total freedom and expression. A place where everything and anything is possible, somewhere we can lose ourselves to the absurd, surreal, psychedelic and beautiful. It is an open doorway into the hearts and minds of others so… Welcome to my imagination. http://www.facebook.com/icalink Cathartica joined Society6 on May 12, 2015
More
My name is Crystal, I am a self taught Australian Artist creating Ethereal, Cathartic and Visionary artworks that are a reflection of inner visions inspired by my philosophical exploration into our spiritual connection to the universe and the wonders of the human mind, spirit and consciousness.
Art is somewhere I can unleash my restless creativity, a place of total freedom and expression. A place where everything and anything is possible, somewhere we can lose ourselves to the absurd, surreal, psychedelic and beautiful. It is an open doorway into the hearts and minds of others so… Welcome to my imagination.
http://www.facebook.com/icalink
Cathartica joined Society6 on May 12, 2015.