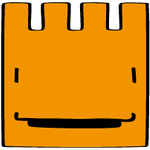 iCosini
I'm a Swiss girl. I work as designer in a branding agency, and in the free time I draw (and I fly with glider). I like to speriment new techniques and have fun drawing. "I cosini" means "little things" in Italian: this is the way I call my characters, which I put in drawings and doodles. The main character is the ninja, and it has become a sort of mantra that I repeat to myself in bad moments: I am a ninja! iCosini joined Society6 on March 1, 2013
More
I'm a Swiss girl. I work as designer in a branding agency, and in the free time I draw (and I fly with glider). I like to speriment new techniques and have fun drawing.
"I cosini" means "little things" in Italian: this is the way I call my characters, which I put in drawings and doodles. The main character is the ninja, and it has become a sort of mantra that I repeat to myself in bad moments: I am a ninja!
iCosini joined Society6 on March 1, 2013.