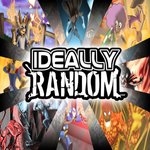 Ideally Random
Just an artist trying to create something great. I'm hoping I can find a bit of success here on Society6, both in terms of finance and followers. I try to be friendly with everyone, so feel free to let me know I'm missing something you think would benefit my gallery even a little. Thanks, Dareyl Crockett www.ideallyrandom.com Ideally Random joined Society6 on May 3, 2014
More
Just an artist trying to create something great.
I'm hoping I can find a bit of success here on Society6, both in terms of finance and followers.
I try to be friendly with everyone, so feel free to let me know I'm missing something you think would benefit my gallery even a little.
Thanks, Dareyl Crockett www.ideallyrandom.com
Ideally Random joined Society6 on May 3, 2014.
Ideally Random's Store
18 results
Filter