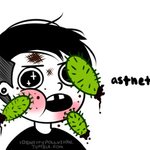 IdentityPollution
I'm a Canadian artist, seamster and cosplayer! My art is inspired by the things I love, I strongly believe in doing something that you love and that is why I've decided to make art into my living. You can find more from me at... My Etsy shop: etsy.com/shop/weeaboutique My Tictail shop: weeaboutique.tictail.com My Tumblr: identitypollution.tumblr.com IdentityPollution joined Society6 on December 9, 2013
More
I'm a Canadian artist, seamster and cosplayer! My art is inspired by the things I love, I strongly believe in doing something that you love and that is why I've decided to make art into my living. You can find more from me at...
My Etsy shop: etsy.com/shop/weeaboutique
My Tictail shop: weeaboutique.tictail.com
My Tumblr: identitypollution.tumblr.com
IdentityPollution joined Society6 on December 9, 2013.