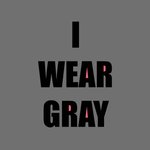 IHateYouCancer
I started this site the month after my mother passed away from a Stage 4 Glioblastoma, aka Brain Cancer. She was the best person I know, and never was sick. When cancer hit, it hit hard. She went from being the life of the party, and everybody's favorite, to losing the battle with her tumors in a matter of one year. While she wouldn't love my use of expletives, she would be proud of me for making something out of the sadness. I hope this helps you too! Oh, and I HATE CANCER! Support cancer research whenever possible, and help a friend/family/acquaintance who is suffering. Even a simple visit to show they're not alone can help them. IHateYouCancer joined Society6 on May 27, 2014
More
I started this site the month after my mother passed away from a Stage 4 Glioblastoma, aka Brain Cancer. She was the best person I know, and never was sick. When cancer hit, it hit hard. She went from being the life of the party, and everybody's favorite, to losing the battle with her tumors in a matter of one year. While she wouldn't love my use of expletives, she would be proud of me for making something out of the sadness.
I hope this helps you too!
Oh, and I HATE CANCER! Support cancer research whenever possible, and help a friend/family/acquaintance who is suffering. Even a simple visit to show they're not alone can help them.
IHateYouCancer joined Society6 on May 27, 2014.