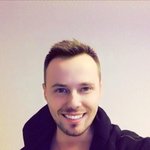 Ilya Konyukhov
www.ilyakonyukhov.com
https://instagram.com/ilya_konyukhov
Ilya Konyukhov is a contemporary artist, painter and designer, who doesn't pursue any particular storylines in his work, just vice versa, he endeavours to awaken human emotions through visual contact with bright colors and their combination. He could be characterized as one of the most brilliant representatives of Russian contemporary art. Oeuvre of Ilya is extremely diverse and his artworks are making stunning impressions on viewers through their directness, special charm, sense of mystery and joy.
Ilya was born on 28 July 1983 in Chita, but almost all his life he has lived on the coast of the Sea of Japan in a small township Vrangel, Primorsky Krai. Probably because of that, you could trace stamp of neighbouring Asian cultures in his work. The mother of Ilya is Vera Ivanovna, who is an honored artist of The Russian Federation. Ilya's father is a famous traveler and artist Pavel Konyukhov, who is also the brother of the internationally famous traveler Fyodor Konyukhov. Probably because of his genes, Ilya is prohibited from staying in the same place for a long time, so his is travelling to various places to be inspired for new artworks and ideas.
Since early childhood Ilya Konyukhov has won a lot of international and Russian artwork competitions. When he was 10 years old, he won a first place in a big international photo competition in which competitors from USA, Canada, Japan, South Korea and Russia took part. He has graduated from Art Collage and Musical College (piano class) with honor diplomas.
In his art you could find different styles such as : pop art, dripping, Japanese pop art, graphics and abstractionism. Ilya's diverse activities include art, design, animation and fashion. His work has had good feedback by Russian, Japanese, Chinese, South Korean, Australian and US people. He's not afraid of bright colors and self-expression, his creative mentality defines ambiguity of creative courses and rich variety of formal metamorphosis in his work, he could not limit himself to well-known techniques, which makes his work color saturated and valuable from art perspective.
Read more
Ilya Konyukhov's Store
Filter