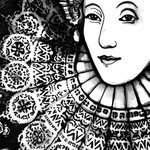 Immortal Longings
Immortal Longings is an artist-run London company specializing in fine illustrated Shakespeare & Opera merchandise, inspired by theatre.
The artwork is created by designer Elizabeth E. Schuch, and has been featured at Shakespeare's Globe Shop, The Metropolitan Opera, The Seattle Opera, The Royal National Theatre, The Guthrie Theater, and other venues around the world.
Elizabeth creates illustrations based in the world of drama, from watercolor and ink drawings. She also acts as a production designer & storyboard artist for film, TV, and theater.
You can view more artwork at www.immortallongings.com. Elizabeth's portfolio: www.elizabethschuch.com
Read more
Immortal Longings's Store
Filter