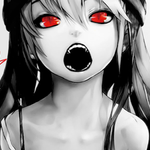 Imperious Art
Mills is a self-taught photographer, artist, digital artist, and designer from the rolling hills of Texas. He loves the outdoors, his main interests are nature and 'humanities works'. He is also the Owner & Head Designer at Imperious Art. He's been an artist since he was 4. He's creative, inspiring, enthusiastic, and often finds himself compelled to share a new piece. He uses his own personal style over a variety of methods. Photography, digital art, drawing, and graphics design. He tends to lean towards neon colors or darker colors and his piece often tend to reflect heavier subjects than what you'd expect of a 17 year old. He strives to have his art enthrall and inspire others. His inspiration comes from his friends, family, relationships, his dog, traveling, Austin, other artists, humanities works, and nature itself. He's also an actor and recently had a play of his own produced. He is quite thrilled about it and ready to start something new. On his website he'll be showing his art, possibly DIY posts, stuff for sale, possibly tips for other artists, his photography, and other things that inspire him. http://ImperiousArt.WordPress.com Imperious Art joined Society6 on November 2, 2016
More
Mills is a self-taught photographer, artist, digital artist, and designer from the rolling hills of Texas. He loves the outdoors, his main interests are nature and 'humanities works'. He is also the Owner & Head Designer at Imperious Art.
He's been an artist since he was 4. He's creative, inspiring, enthusiastic, and often finds himself compelled to share a new piece.
He uses his own personal style over a variety of methods. Photography, digital art, drawing, and graphics design.
He tends to lean towards neon colors or darker colors and his piece often tend to reflect heavier subjects than what you'd expect of a 17 year old. He strives to have his art enthrall and inspire others.
His inspiration comes from his friends, family, relationships, his dog, traveling, Austin, other artists, humanities works, and nature itself.
He's also an actor and recently had a play of his own produced. He is quite thrilled about it and ready to start something new.
On his website he'll be showing his art, possibly DIY posts, stuff for sale, possibly tips for other artists, his photography, and other things that inspire him.
http://ImperiousArt.WordPress.com
Imperious Art joined Society6 on November 2, 2016.