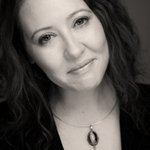 Incognitagal
Actress, writer, director, designer. Art is my therapy and my joy. Digital creations are my usual thing. Seriously addicted to Typography. And Shakespeare. And the Classics. Based in Melbourne, Victoria, Australia. Owner/Designer of The Shakespeare Shoppe for the past decade and still loving it. Sometimes seen on TV (both myself and my work), currently appearing on stage doing Greek tragedy ... hmm ... that gives me an idea for another piece ... excuse me, back soon ... PS - Gary Oldman (actor/director) is the proud owner of one of my t-shirt designs - true story :) Incognitagal joined Society6 on October 28, 2015
More
Actress, writer, director, designer. Art is my therapy and my joy. Digital creations are my usual thing. Seriously addicted to Typography. And Shakespeare. And the Classics. Based in Melbourne, Victoria, Australia. Owner/Designer of The Shakespeare Shoppe for the past decade and still loving it. Sometimes seen on TV (both myself and my work), currently appearing on stage doing Greek tragedy ... hmm ... that gives me an idea for another piece ... excuse me, back soon ...
PS - Gary Oldman (actor/director) is the proud owner of one of my t-shirt designs - true story :)
Incognitagal joined Society6 on October 28, 2015.