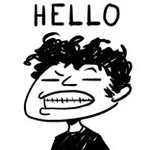 Indigo Moorhead
Heyo, my name is Indigo Moorhead. I am an Illustrator living in the U.S.A. and I'm here to offer you paper covered with pretty little lines. If you have some questions about my work you can email me at: info@indigomoorhead.com You can find a selection of my finished art on my website: www.indigomoorhead.com You can also find my work, doodles, and comics on my tumblr: indigobugs.tumblr.com (Hint: if you're looking for fanart, this is the place to go) Indigo Moorhead joined Society6 on August 15, 2013
More
Heyo, my name is Indigo Moorhead. I am an Illustrator living in the U.S.A. and I'm here to offer you paper covered with pretty little lines.
If you have some questions about my work you can email me at: info@indigomoorhead.com
You can find a selection of my finished art on my website: www.indigomoorhead.com
You can also find my work, doodles, and comics on my tumblr: indigobugs.tumblr.com (Hint: if you're looking for fanart, this is the place to go)
Indigo Moorhead joined Society6 on August 15, 2013.
Indigo Moorhead's Store
56 results
Filter