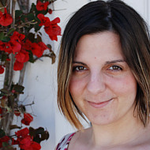 Ines Rocio
A dreamer who love to paint
I'm a mother, a women in love and an artist with a background in graphic design. I'm a dreamer who like to paint since childhood, used to paint flying ponies, rainbows, gardens, houses and always liked to represent nature in a colorful way. My life is filled with music, animals (two female dogs in the house), creating different recipes with food, children's illustration books and romantic stories with a happy ending.
Nature is my great source of inspiration, I am fascinated by the vividness of colors, organic, natural architecture, overlapping tones, rhythms and energy. Like strolling through the park or the beach, as a botanist, collect small natural treasures, with which at the Atelier, I give life and natural energy to art pieces.
Watercolor is undoubtedly the artistic medium with which I identify most, because as my painting is very spontaneous, allows for endless diversity of hues, besides it is a clean paint technique and more environmentally friendly. Really like to use metallic pigments, especially the gold because it adds richness and luminosity to the paintings.
My painting is mostly intuitive, like to explore the various dimensions of pigments free-form, almost always with the purpose of transposing the metaphysical vibration and positive energy that nature gives me, through art. The creative act transcends me as an individual.
My goal is to continue to create, feel happy and privileged for it, I like the idea of creating my pieces and see them take their course for their future home owners, not only by economic necessity intrinsic to any store (after all the artists have to eat too) but mainly for the joy I have in creating pieces that also make other people happy.
You can visit my site at: http://www.inesrocio.com/ or like my facebook page at: https://www.facebook.com/inesrocio or follow me at: https://www.pinterest.com/inesrocio/
Read more