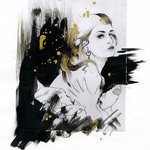 Inger-Kristine
Inger-Kristine Steinsland is a norwegian graduate from Falmouth University who is currently working as a freelance illustrator in the UK. Her visual style is a combination of delicate pencil lines combined with more brutal and spontaneous mark making. Inspired by beauty, distinguishing marks and hidden emotions, her strongest tool of conveying this is used through portraits. WEBSITE: http://ingerkristineillustration.com BEHANCE: https://www.behance.net/ingerkristine TWITTER: https://twitter.com/IngerKristineS Inger-Kristine joined Society6 on March 20, 2015
More
Inger-Kristine Steinsland is a norwegian graduate from Falmouth University who is currently working as a freelance illustrator in the UK.
Her visual style is a combination of delicate pencil lines combined with more brutal and spontaneous mark making. Inspired by beauty, distinguishing marks and hidden emotions, her strongest tool of conveying this is used through portraits.
WEBSITE: http://ingerkristineillustration.com BEHANCE: https://www.behance.net/ingerkristine TWITTER: https://twitter.com/IngerKristineS
Inger-Kristine joined Society6 on March 20, 2015.
Inger-Kristine 's Store
33 results
Filter