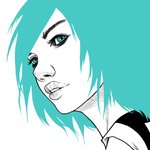 Ingunn Berg Ferstad
Freelance illustrator based in Norway. I am a BA (Hons) Illustration graduate from Southampton Solent University in England. Drawing has always been a passion, and I especially like mixing illustration and typography. Hope you enjoy my work! website: http://ingunnbergferstad.com/ tumblr: http://ingunnbf.tumblr.com/ email: askingunn@gmail.com Ingunn Berg Ferstad joined Society6 on June 17, 2013
More
Freelance illustrator based in Norway.
I am a BA (Hons) Illustration graduate from Southampton Solent University in England. Drawing has always been a passion, and I especially like mixing illustration and typography. Hope you enjoy my work!
website: http://ingunnbergferstad.com/ tumblr: http://ingunnbf.tumblr.com/ email: askingunn@gmail.com
Ingunn Berg Ferstad joined Society6 on June 17, 2013.