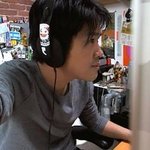 inkdesigner
Wing-Ip Ngan was born in Hong Kong and came to the U.S. in 1989. He received a B.F.A. with honors in graphic design from Massachusetts College of Art. Upon graduation, he joined Stoltze Design, where he worked closely with his mentor and former MassArt lecturer, Clifford Stoltze, for four years. In 2000, Ngan took a venture and founded his own design firm, Ink Design. Over the past 10 years, Ngan has collaborated with many talented local freelance designers. His clients include Massachusetts Institute of Technology, Harvard University, Houghton Mifflin Company, The Aga Khan Program for Islamic Architecture and Mini Cooper. Ngan's work has been featured in Type Director Club 45, HOW, Step by Step, IdN, One & Two Color Graphics and New Typography 2. He also holds many awards, such as the American Graphic Design Awards, BoNE Show Best of Show and Book Builders Award. inkdesigner joined Society6 on September 8, 2014
More
Wing-Ip Ngan was born in Hong Kong and came to the U.S. in 1989. He received a B.F.A. with honors in graphic design from Massachusetts College of Art. Upon graduation, he joined Stoltze Design, where he worked closely with his mentor and former MassArt lecturer, Clifford Stoltze, for four years.
In 2000, Ngan took a venture and founded his own design firm, Ink Design. Over the past 10 years, Ngan has collaborated with many talented local freelance designers. His clients include Massachusetts Institute of Technology, Harvard University, Houghton Mifflin Company, The Aga Khan Program for Islamic Architecture and Mini Cooper.
Ngan's work has been featured in Type Director Club 45, HOW, Step by Step, IdN, One & Two Color Graphics and New Typography 2. He also holds many awards, such as the American Graphic Design Awards, BoNE Show Best of Show and Book Builders Award.
inkdesigner joined Society6 on September 8, 2014.