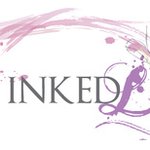 Inked Lily
I needed to hold onto his spirit. I needed to lock it away, to keep it special and make it a part of my soul. When a dear friend passed on in 2008, I picked up a few flowers that had also passed on and began to create, working through my grief and discovering beauty still present in these defunct bits of nature. What most would throw away was leaving me completely enchanted and was helping me to see life where it appeared there was none. At the heart of my artistic practice is the idea of taking an item at the point where most people would consider it dead or useless and renewing its life with whimsy, spirit, and love. My favorite tools, aside from these beautifully dead flowers and leaves, are my hands. They are the power through which I create. I also work with handcrafted papers, natural fabrics, tea bags, acrylic paints, and ink. The natural beauty of the botanical pigments and stains inspire my colour palette and mark making. It's as if they whisper from the invisible world, subtly guiding me in giving them new life. I also love to work with the delicacy and richness of tea stains and tea bags, on their own or in conjunction with my petal work. I believe that creating and a good cup of tea go hand-in-hand. For a tea drinker, a cup of tea marks time in the day: early-morning, mid-afternoon, and when I need a moment to just breathe with myself. In that vein, tea also marks moments in life, sometimes seamlessly and other times awkwardly sewn together in the living of one's life. In making tea bag quilts, I honour those moments passed at a particular time in my life, memorializing them. Official Bio: I'm Susy Martins, a visual artist living in Toronto, Canada. I studied Fine Art at the wonderful Toronto School of Art and have been exhibiting my works since 2008. My work bring to light the life left in objects that others consider spent, dead, or defunct. While I love creating art, I also love sharing that love with young children and youth in the city. When I'm not fully immersed in the world of art, I do enjoy cooking dishes from different ethnic cuisines for my friends, exploring the more natural and hidden part of my city by bike, sitting by the lake watching the summer sun set, hunting through thrift shops for pretty vintage dresses and reading poetry from the mystics and John O'Donohue. And, of course, playing with flowers and drinking tea! Inked Lily joined Society6 on May 20, 2014
More
I needed to hold onto his spirit. I needed to lock it away, to keep it special and make it a part of my soul.
When a dear friend passed on in 2008, I picked up a few flowers that had also passed on and began to create, working through my grief and discovering beauty still present in these defunct bits of nature. What most would throw away was leaving me completely enchanted and was helping me to see life where it appeared there was none. At the heart of my artistic practice is the idea of taking an item at the point where most people would consider it dead or useless and renewing its life with whimsy, spirit, and love.
My favorite tools, aside from these beautifully dead flowers and leaves, are my hands. They are the power through which I create. I also work with handcrafted papers, natural fabrics, tea bags, acrylic paints, and ink. The natural beauty of the botanical pigments and stains inspire my colour palette and mark making. It's as if they whisper from the invisible world, subtly guiding me in giving them new life.
I also love to work with the delicacy and richness of tea stains and tea bags, on their own or in conjunction with my petal work. I believe that creating and a good cup of tea go hand-in-hand. For a tea drinker, a cup of tea marks time in the day: early-morning, mid-afternoon, and when I need a moment to just breathe with myself. In that vein, tea also marks moments in life, sometimes seamlessly and other times awkwardly sewn together in the living of one's life. In making tea bag quilts, I honour those moments passed at a particular time in my life, memorializing them.
Official Bio: I'm Susy Martins, a visual artist living in Toronto, Canada. I studied Fine Art at the wonderful Toronto School of Art and have been exhibiting my works since 2008. My work bring to light the life left in objects that others consider spent, dead, or defunct.
While I love creating art, I also love sharing that love with young children and youth in the city. When I'm not fully immersed in the world of art, I do enjoy cooking dishes from different ethnic cuisines for my friends, exploring the more natural and hidden part of my city by bike, sitting by the lake watching the summer sun set, hunting through thrift shops for pretty vintage dresses and reading poetry from the mystics and John O'Donohue. And, of course, playing with flowers and drinking tea!
Inked Lily joined Society6 on May 20, 2014.
Inked Lily's Store
9 result
Filter