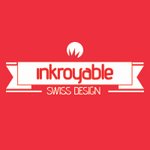 Inkroyable
Born in Vila Nova de Gaia in the north side of Portugal, a beautiful place in a country full of amazing views and amazing nature. Since i was a child that i love design & comics. I've studied Multimedia but graphic design is my passion, i can develop websites/blogs and code a little ... but again.. design is my real thing. I've moved to Switzerland in 2011 and i'm working in other profession since i come here, so i've decided to create this shop in order to show some of my creations. I honestly hope you like you buy and you share it as well :) http://inkroyable.ch Inkroyable joined Society6 on January 31, 2015
More
Born in Vila Nova de Gaia in the north side of Portugal, a beautiful place in a country full of amazing views and amazing nature.
Since i was a child that i love design & comics.
I've studied Multimedia but graphic design is my passion, i can develop websites/blogs and code a little ... but again.. design is my real thing.
I've moved to Switzerland in 2011 and i'm working in other profession since i come here, so i've decided to create this shop in order to show some of my creations.
I honestly hope you like you buy and you share it as well :)
http://inkroyable.ch
Inkroyable joined Society6 on January 31, 2015.