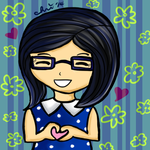 Chrianne Illustrations
"Art Made with Love" I create interpretations about love and life based on music lyrics (whether Japanese songs--that have English translations and even English music) with intricate and unique art. What makes my art stand out is that it shows a whimsical, playful feel with cute works that are made with love, time and effort. Chrianne Illustrations joined Society6 on June 20, 2014
More
"Art Made with Love"
I create interpretations about love and life based on music lyrics (whether Japanese songs--that have English translations and even English music) with intricate and unique art.
What makes my art stand out is that it shows a whimsical, playful feel with cute works that are made with love, time and effort.
Chrianne Illustrations joined Society6 on June 20, 2014.
Chrianne Illustrations's Store
20 results
Filter