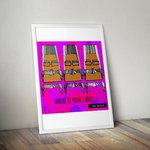 Ink Weave
Ink Weave is a recent start up by an enthusiastic young designer, Aditya Vinod , based out of Bangalore, India. Ink Weave art is extremely genuine, a little retro, a sprinkle of pop, maybe a bit of both and we want to keep it that way. [All art works are solo works of Aditya Vinod. It is not a combined or collaborative produce.] Ink Weave joined Society6 on December 3, 2014
More
Ink Weave is a recent start up by an enthusiastic young designer, Aditya Vinod , based out of Bangalore, India. Ink Weave art is extremely genuine, a little retro, a sprinkle of pop, maybe a bit of both and we want to keep it that way.
[All art works are solo works of Aditya Vinod. It is not a combined or collaborative produce.]
Ink Weave joined Society6 on December 3, 2014.