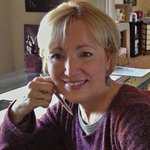 inkyspots
Professional fine artist & illustrator, Denise has been working in the fine arts for over 40 yrs. Upon earning a degree in Graphic Design, she first went to work in the advertising department of a local newspaper office. Since those early days, her training has become progressive as many opportunities opened up for her to use a myriad of mediums. Some projects have ranged from sculptures, portraiture, pen and ink illustrations to large scale canvas oils and murals. Ongoing she has exhibited in galleries both locally and internationally. All of her creations are an expression of her spirit, revealing what is imprinted on the core of her heart. Denise lives and studios in Montgomery, Texas with her husband Jesse. www.denisearmstrong.com inkyspots joined Society6 on June 21, 2016
More
Professional fine artist & illustrator, Denise has been working in the fine arts for over 40 yrs. Upon earning a degree in Graphic Design, she first went to work in the advertising department of a local newspaper office. Since those early days, her training has become progressive as many opportunities opened up for her to use a myriad of mediums. Some projects have ranged from sculptures, portraiture, pen and ink illustrations to large scale canvas oils and murals. Ongoing she has exhibited in galleries both locally and internationally. All of her creations are an expression of her spirit, revealing what is imprinted on the core of her heart.
Denise lives and studios in Montgomery, Texas with her husband Jesse. www.denisearmstrong.com
inkyspots joined Society6 on June 21, 2016.
inkyspots's Store
33 results
Filter