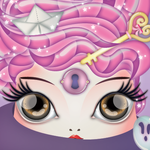 Inky Valentine
Inky Valentine is an illustrator who goes crazy for tattoos, rainbows, sushi, crafty things and pets.
She was born in Sardinia and grew up surrounded by pencils, fabrics, paintbrushes, cats and sea, but she has been living in Milan since 2003.
Since Design graduating in 2007 at Politecnico of Milano, she has been working as a freelance illustrator. Her work has appeared in t-shirts and magazines, packaging, advertising, calendars and greeting cards. She worked for clients like Cosmopolitan Magazine, Infectious, Victorinox, Sigg, OVS Industry, Deborah Cosmetics and much more.
Drawing is her favourite thing in the world but she also really likes making dolls and jewelery with paper, watching tv shows (she has a huge crush on Don Draper!), her pet bunny, tulips, drinking coffee and dyeing her hair (especially turquoise and carrot red).
You can find out more about ♥ Inky Valentine ♥ at www.inkyvalentine.com
Read more
Inky Valentine's Store
Filter