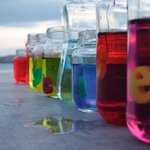 in my closet
Many years ago I decided that I wanted to become a graphic designer. So I did. On my way to that I meet photography and I loved it with all my heart since it was one of the most important tools of my profession. Crafting came later to light my way. Now I love them all and I mix them all when I create! More for me: Blog: http://inmyc.wordpress.com/ (in greek) http://inmyceng.wordpress.com/ (in english) Facebook: https://www.facebook.com/inmyclosetblog Pinterest: http://www.pinterest.com/inmyc/boards/ Flickr: http://www.flickr.com/photos/mafaldaq Twitter: http://www.twitter.com/mafaldaq Etsy: https://www.etsy.com/shop/Inmyc in my closet joined Society6 on September 7, 2013
More
Many years ago I decided that I wanted to become a graphic designer. So I did. On my way to that I meet photography and I loved it with all my heart since it was one of the most important tools of my profession. Crafting came later to light my way. Now I love them all and I mix them all when I create!
More for me: Blog: http://inmyc.wordpress.com/ (in greek) http://inmyceng.wordpress.com/ (in english) Facebook: https://www.facebook.com/inmyclosetblog Pinterest: http://www.pinterest.com/inmyc/boards/ Flickr: http://www.flickr.com/photos/mafaldaq Twitter: http://www.twitter.com/mafaldaq Etsy: https://www.etsy.com/shop/Inmyc
in my closet joined Society6 on September 7, 2013.