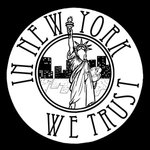 InNYweTrust
It all began as homework for an entry-level art class.... Born and bred a New Yorker, I wanted to convey the sense of pride us as New Yorkers had. The honor of being constantly exposed to this city offers a privilege only few understand. "He who thinks different, Stands Out; But is he who stands out truly different?" We are all a walking canvas, what brush, pencil, marker, color, or paint we choose to use tells our own story. This is mine. ​ In New York We Trust is more than just a fashion statement; it's a lifestyle rooted deep within the heart of all; yet undiscovered by most. Art is Personal, a form of expression and creativity. Inspiring, giving some a purpose in life. Hidden, a mystery so embedded in our routine days its only accessible by those who can OPEN THEIR EYES. Art is everywhere. It's in the detail of the longstanding buildings that are disregarded. It's in the history of the culture that came to be. It's in the people that walk the streets, each with their own story to share. It's in the soul of every unique individual that can look beyond the exterior. This unique Chemistry combines:  The Heart of a New Yorker, the Soul of an Artist. InNYweTrust joined Society6 on January 30, 2014
More
It all began as homework for an entry-level art class....
Born and bred a New Yorker, I wanted to convey the sense of pride us as New Yorkers had. The honor of being constantly exposed to this city offers a privilege only few understand. "He who thinks different, Stands Out; But is he who stands out truly different?" We are all a walking canvas, what brush, pencil, marker, color, or paint we choose to use tells our own story. This is mine. ​
In New York We Trust is more than just a fashion statement; it's a lifestyle rooted deep within the heart of all; yet undiscovered by most. Art is Personal, a form of expression and creativity. Inspiring, giving some a purpose in life. Hidden, a mystery so embedded in our routine days its only accessible by those who can OPEN THEIR EYES. Art is everywhere. It's in the detail of the longstanding buildings that are disregarded. It's in the history of the culture that came to be. It's in the people that walk the streets, each with their own story to share. It's in the soul of every unique individual that can look beyond the exterior. This unique Chemistry combines:  The Heart of a New Yorker, the Soul of an Artist.
InNYweTrust joined Society6 on January 30, 2014.