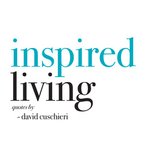 inspired living
Inspired Living is where you can buy beautifully designed products that are inspirational and make heart-felt gifts. Beautiful quotes written and designed by renowned author and designer David Cuschieri. Words are powerful. When received at the right time they can change lives. At different times in our lives the very same words can speak to us differently. Inspirational words are gifts that come into our lives when we need them the most. May you be touched and moved to live an inspired life. inspired living joined Society6 on February 1, 2014
More
Inspired Living is where you can buy beautifully designed products that are inspirational and make heart-felt gifts. Beautiful quotes written and designed by renowned author and designer David Cuschieri.
Words are powerful. When received at the right time they can change lives. At different times in our lives the very same words can speak to us differently. Inspirational words are gifts that come into our lives when we need them the most.
May you be touched and moved to live an inspired life.
inspired living joined Society6 on February 1, 2014.