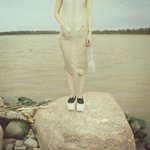 Ready-to-Paint
"Ready-to-paint" artworks are made by two fashion and textile designers Ga (Igor Garin) and Va (Varvara Zhemchuzhnikova), who used to work together in one country, but now are based in different cities, countries, continents (Moscow, Russia and Vancouver, Canada). So here is the place where their collaboration continues. With passion to nature, life, travels, textures, geometry, paint, patterns, textiles, colors and stories. love and cheers! thanks for supporting, friends Ready-to-Paint joined Society6 on December 31, 2013
More
"Ready-to-paint" artworks are made by two fashion and textile designers Ga (Igor Garin) and Va (Varvara Zhemchuzhnikova), who used to work together in one country, but now are based in different cities, countries, continents (Moscow, Russia and Vancouver, Canada). So here is the place where their collaboration continues.
With passion to nature, life, travels, textures, geometry, paint, patterns, textiles, colors and stories.
love and cheers! thanks for supporting, friends
Ready-to-Paint joined Society6 on December 31, 2013.