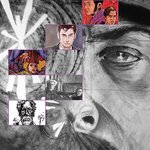 IntroFlect Studios
M. D. Shane was born and raised in Staten Island, NY. When he was 5, he discovered his first comic book and a life-long love of the art form began. Growing up, M.D. Shane would spend endless hours honing his skills as an artist, whether it was by drawing up character designs or writing about his character's adventures. When he was in high school, he found kinship with other artistic students, which encouraged him to expand his artistic horizons by writing poetry and later working on student film productions. In 2005 M.D. Shane joined the U.S. Army. Though he worked as a Water Treatment Specialist in the U.S. Army, his artistic skills did not go to waste. While in Basic Training, M.D. Shane often made his spending money by drawing tattoos for other soldiers. After Basic Training, M.D. Shane was stationed in Savannah, GA. M.D. Shane deployed to Iraq during Operation Iraqi Freedom from May 2007 to July of 2008. Though his workdays were long and strenuous, he would dedicate precious rest hours to drawing and spending time with other artistic soldiers sharing trade talk. M.D. Shane retired from service in September of 2010. That same month he enrolled at the prestigious Savannah College of Art and Design. He is currently an alumni of SCAD graduating June 1st 2013, majoring in Sequential Art and will be moving on to grad school. Attending SCAD afforded him the opportunity to study under the tutelage of John Lowe, Anthony Fisher, Tom Lyle, Michael Jantze, Benjamin Phillips and David McHargue. M.D. Shane lives in Savannah, Georgia, with his beautifal wife Michelle, amazing daughter, Lily and his sensational son, Nathaniel. IntroFlect Studios joined Society6 on July 1, 2013
More
M. D. Shane was born and raised in Staten Island, NY. When he was 5, he discovered his first comic book and a life-long love of the art form began. Growing up, M.D. Shane would spend endless hours honing his skills as an artist, whether it was by drawing up character designs or writing about his character's adventures.
When he was in high school, he found kinship with other artistic students, which encouraged him to expand his artistic horizons by writing poetry and later working on student film productions.
In 2005 M.D. Shane joined the U.S. Army. Though he worked as a Water Treatment Specialist in the U.S. Army, his artistic skills did not go to waste. While in Basic Training, M.D. Shane often made his spending money by drawing tattoos for other soldiers. After Basic Training, M.D. Shane was stationed in Savannah, GA. M.D. Shane deployed to Iraq during Operation Iraqi Freedom from May 2007 to July of 2008. Though his workdays were long and strenuous, he would dedicate precious rest hours to drawing and spending time with other artistic soldiers sharing trade talk.
M.D. Shane retired from service in September of 2010. That same month he enrolled at the prestigious Savannah College of Art and Design. He is currently an alumni of SCAD graduating June 1st 2013, majoring in Sequential Art and will be moving on to grad school. Attending SCAD afforded him the opportunity to study under the tutelage of John Lowe, Anthony Fisher, Tom Lyle, Michael Jantze, Benjamin Phillips and David McHargue. M.D. Shane lives in Savannah, Georgia, with his beautifal wife Michelle, amazing daughter, Lily and his sensational son, Nathaniel.
IntroFlect Studios joined Society6 on July 1, 2013.