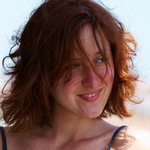 Irina Makedonska
Hi there, I'm Irina Makedonska and I'm freelance illustrator and graphic designer. At the moment I work and live in Sofia (Bulgaria) where I was born in 1987. I love drawing, travelling, animals (especially dachshunds and hedgehogs), drinking tea every day, eating and watching culinary tv programs. But especially, I love to work in funny and creative projects. My illustrations are inspired by my everyday life, the people around me and my imagination do the rest. This is my ETSY shop: http://www.etsy.com/shop/IrinaMakedonska This is my FACEBOOK page: https://www.facebook.com/irina.makedonska.art Irina Makedonska joined Society6 on October 4, 2013
More
Hi there,
I'm Irina Makedonska and I'm freelance illustrator and graphic designer. At the moment I work and live in Sofia (Bulgaria) where I was born in 1987.
I love drawing, travelling, animals (especially dachshunds and hedgehogs), drinking tea every day, eating and watching culinary tv programs. But especially, I love to work in funny and creative projects.
My illustrations are inspired by my everyday life, the people around me and my imagination do the rest.
This is my ETSY shop: http://www.etsy.com/shop/IrinaMakedonska This is my FACEBOOK page: https://www.facebook.com/irina.makedonska.art
Irina Makedonska joined Society6 on October 4, 2013.