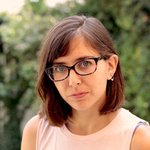 Isabel Rosemblatt Bono
Hi! My name is Isabel, I'm a visual artist and illustrator living in Santiago, Chile. I love to draw, and I love to write, so I often include my own writing into my visual work, with weird texts about things I imagine, see or hear. I like to draw cute things with simple shapes and bright colors. I love making illustrations for children. My work is mostly vector and digital art. I'm inspired by nature, animals, people in the street, surrealism and my 3 year old. Check out my website for more information at www.isabelrb.cl Or follow me on social media: https://www.instagram.com/isabelrosemblatt/ https://twitter.com/irosemblatt https://www.facebook.com/isabelrosemblattbono/ You can also contact me at isabelrosemblatt@gmail.com Isabel Rosemblatt Bono joined Society6 on September 5, 2017
More
Hi! My name is Isabel, I'm a visual artist and illustrator living in Santiago, Chile. I love to draw, and I love to write, so I often include my own writing into my visual work, with weird texts about things I imagine, see or hear. I like to draw cute things with simple shapes and bright colors. I love making illustrations for children. My work is mostly vector and digital art. I'm inspired by nature, animals, people in the street, surrealism and my 3 year old.
Check out my website for more information at www.isabelrb.cl
Or follow me on social media:
https://www.instagram.com/isabelrosemblatt/ https://twitter.com/irosemblatt https://www.facebook.com/isabelrosemblattbono/
You can also contact me at isabelrosemblatt@gmail.com
Isabel Rosemblatt Bono joined Society6 on September 5, 2017.