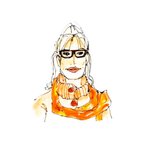 I See Funny People
Hello, I'm Jody Levinson, illustrator, humorist (smart ass, storyteller, observer, satirist, commentator)
I started these sketchbooks because I wanted my children to know who I was as a person….not only their Mother.
I wanted them to know what I was thinking about and how I saw the world. And most importantly to know, no matter how verkakte* the world gets….there's always something to laugh about.
Visit iseefunnypeople.com for more funny stuff.
Verkakte (verkackta, fakata, fercockt, fakakta, vercocked)
Read more
I See Funny People's Store