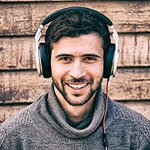 islamhassan
ISDESIGN STORE ONLINE FOR NEW CREATIVE DESIGNS AND PHOTOS . Welcome to ISDESIGN , What you'r about to see on here is an ambitious attempt to mix my professional photography skills with my artistic designs to produce something New , unique and genuinely creative to appeal to SOCIETY6 distinguished clients . My Name is Islam Hassan ,I make living from art , many types of art actually from painting ,hand crafting and photography to even digital arts like graphic design and motion graphics and more but despite being a professional at work i never lost the connection with my pure artistic amateur side . I am so in love with what I do and I hope i can use my talents to produce things that appeals to you and you can find what you were really looking for . Thank you all Any image in "Prints & Posters" is copyright & may not be used without written permission (regardless of where the product is displayed). SOCIETY6 are bringing out new products all the time – which is great. So if you see something you like but which doesn't appear to be available in the way you want let me know and I'll look at it for you. islamhassan joined Society6 on November 4, 2016
More
ISDESIGN STORE ONLINE FOR NEW CREATIVE DESIGNS AND PHOTOS .
Welcome to ISDESIGN , What you'r about to see on here is an ambitious attempt to mix my professional photography skills with my artistic designs to produce something New , unique and genuinely creative to appeal to SOCIETY6 distinguished clients . My Name is Islam Hassan ,I make living from art , many types of art actually from painting ,hand crafting and photography to even digital arts like graphic design and motion graphics and more but despite being a professional at work i never lost the connection with my pure artistic amateur side . I am so in love with what I do and I hope i can use my talents to produce things that appeals to you and you can find what you were really looking for . Thank you all
Any image in "Prints & Posters" is copyright & may not be used without written permission (regardless of where the product is displayed).
SOCIETY6 are bringing out new products all the time – which is great. So if you see something you like but which doesn't appear to be available in the way you want let me know and I'll look at it for you.
islamhassan joined Society6 on November 4, 2016.