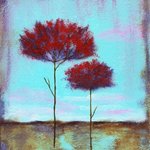 Itaya Art
I am an artist creating acrylic and watercolor paintings and have been creating artwork and designs for over 25 years. I also create graphic designs, illustrations, and trendy patterns. My artwork and designs have been collected by awesome collectors all over the world. Thank you! You may also find my artwork and designs here - http://zazzle.com/itayasdesigns http://zazzle.com/wiseowlwhimsies Itaya Art joined Society6 on December 21, 2012
More
I am an artist creating acrylic and watercolor paintings and have been creating artwork and designs for over 25 years. I also create graphic designs, illustrations, and trendy patterns. My artwork and designs have been collected by awesome collectors all over the world. Thank you!
You may also find my artwork and designs here -
http://zazzle.com/itayasdesigns
http://zazzle.com/wiseowlwhimsies
Itaya Art joined Society6 on December 21, 2012.