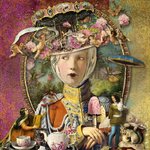 itKuPiLLi
I'm a Finnish designer and digital artist, living in Los Angeles with my hippie husband, a cute dog and 5 groovy cats. Digital collages are my passion. My collages are merely arrangements of colors and compositions. No inner meaning or message other than don't take anything too seriously. Life is good. Enjoy! https://www.facebook.com/Itkupilli/ http://bohemianitkupilli.blogspot.com/ http://www.mischiefcircus.com/shop/manufacturers.php?manufacturerid=49 itKuPiLLi joined Society6 on May 5, 2016
More
I'm a Finnish designer and digital artist, living in Los Angeles with my hippie husband, a cute dog and 5 groovy cats. Digital collages are my passion. My collages are merely arrangements of colors and compositions. No inner meaning or message other than don't take anything too seriously. Life is good. Enjoy!
https://www.facebook.com/Itkupilli/ http://bohemianitkupilli.blogspot.com/ http://www.mischiefcircus.com/shop/manufacturers.php?manufacturerid=49
itKuPiLLi joined Society6 on May 5, 2016.