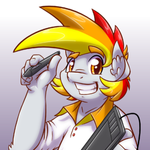 Silver Blaze
I'm an avid blogger, artist, programmer and musician. I post most of my stuff online on Tumblr, DA and BandCamp. I'm also quite an open person, always willing to lend a helping hand if possible and won't turn down an opportunity to give some helpful critique if appropriate. I am also the lead art director of the AtlantiQuestria Pony Festival, here in Nova Scotia. If you plan on attending, we may meet. See ya there! :3 Current projects: Itsy Bitsy Adventures (Comic) ProtoStar (Retro Arcade game) BOUND (Music Album) Silver Blaze joined Society6 on May 31, 2013
More
I'm an avid blogger, artist, programmer and musician. I post most of my stuff online on Tumblr, DA and BandCamp. I'm also quite an open person, always willing to lend a helping hand if possible and won't turn down an opportunity to give some helpful critique if appropriate.
I am also the lead art director of the AtlantiQuestria Pony Festival, here in Nova Scotia. If you plan on attending, we may meet. See ya there! :3
Current projects: Itsy Bitsy Adventures (Comic) ProtoStar (Retro Arcade game) BOUND (Music Album)
Silver Blaze joined Society6 on May 31, 2013.
Silver Blaze's Store
14 results
Filter