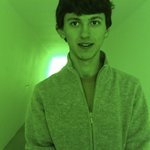 Ivaylo Getov
Hi! I'm Ivaylo Getov. I make video art, interactive art, and work as a freelance cinematographer. I take photos everywhere I go and sometimes they make it on here. I was born in Bulgaria, raised in Los Angeles, and now I'm based out of Brooklyn, NY. I graduated from the Tisch School of the Arts at NYU with a BFA in Film and a minor in Philosophy. I love experimenting with new mediums and technologies, and I am always happy to collaborate! Ivaylo Getov joined Society6 on May 18, 2011
More
Hi! I'm Ivaylo Getov. I make video art, interactive art, and work as a freelance cinematographer. I take photos everywhere I go and sometimes they make it on here.
I was born in Bulgaria, raised in Los Angeles, and now I'm based out of Brooklyn, NY. I graduated from the Tisch School of the Arts at NYU with a BFA in Film and a minor in Philosophy. I love experimenting with new mediums and technologies, and I am always happy to collaborate!
Ivaylo Getov joined Society6 on May 18, 2011.
Prints by Ivaylo Getov
27 results
Filter